As the public relations coordinator for United States Vets Inc. for the past four years, it has been my privilege to meet and interview outstanding veterans in the Toledo area. Regrettably, this is my final veteran interview for the organization's website and it is an honor that it is with Carolyn Nagy, advocate and representative for the Women Veterans Initiative.
Leslie Mestrow, Public Relations
The Toledo women's veteran community is all the more better with an engaging advocate for them by the name of Carolyn Nagy. Carolyn is the focus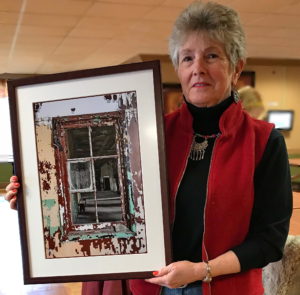 of this month's veteran interview and she shares some very interesting encounters and journeys in the military and in the civilian world.
Nagy is from a small farming community near Warren, Ohio. Although she did not come from a large family, the military roots were well planted as four uncles and a cousin served our country as well.
When did you enlist?
USAR – Army Nurse Corp February 8, 1980; Served with the 350th Evacuation Hospital Detachment #1 Toledo, Ohio." Nagy was deployed to Desert Shield in November 1990 and honorably discharged July 1992.
Nagy included,"The 350th Evacuation Hospital was deployed to Saudi Arabia for Operation Desert Shield/Storm. We set up a 400 bed evacuation hospital in the King Khalid Military City, which was 70 miles from Kuwait. We were activated in November 1990 and returned home June 1991."
Were you a nurse prior to enlisting?
Yes, my nursing practice focused on cardiology, emergency room and trauma. Throughout my career, I functioned as a manager and educator.
How did the two careers meet?
I was teaching a CPR course when I overheard a conversation regarding the Army Nurse Corp. The next thing I knew, a recruiter was in my office. Nursing and the ANC was a good fit as I could utilize my skills in nursing, management and as an educator. I was also used to wearing a uniform.
With that in mind, what is the most important piece of advice you would give a young woman who is considering a military career? Take advantage of educational opportunities with their branch of service and "Be all That you can be".
The duties at the evac were immense. Nagy coordinated the design and construction of the 400 bed hospital and living quarters while functioning as the Assistant Chief Nurse of the hospital, responsible for the day-to-day operations. She coordinated redeployment physicals and assessed the soldiers' mental and physical wellness, and coordinated medical care with other evacuation hospitals in the area. That wasn't all. She assisted with the coordination of activities for shutting down the hospital and unit redeployment. Daily challenges included maintaining unit morale.
Memorable moments? Meeting General Schwarzkopf.
What were the circumstances that allowed you to meet General Schwarzkopf?
General Schwarzkopf was in charge of readiness. He would stop in every couple of days to ask if we needed anything and/or were we ready for patients. He would see that supplies and/or equipment would be received in a timely manner. The day after we said we were ready the ground troops were activated.
How did your civilian nursing experience prepare you for what you experienced during
ODS?
My nursing knowledge and patient care skills were the foundation for my nursing practice. Nurses must also be knowledgeable about standards of care when dealing with nurses from other areas of the country and training backgrounds. In Desert Shield/Storm, I served as the Assistant Chief Nurse therefore; I needed to call upon my knowledge of standards of care in developing staffing plans. My civilian nursing background was more in management and education rather than staff nursing. As the Assistant Chief Nurse, I needed to use my skills as a manager doing staffing plans, organization, evaluations, etc. This position also called for utilizing writing skills and prior knowledge of statistics. My prior experience as a nursing
educator was also helpful in the my in ODS.
Never standing still…
An avid traveler, her passport could rival the original scroll length of Kerouac's "On the Road" but I can guarantee her mission was and continues to be quite different. You may remember a recent article about Nagy on our website.
Your artwork hung in the Ohio Governor's Residence for three months along with six other Ohio Women Veteran artists. Art and the military experience. Do they ever meet on canvas?
One's creativity stems from life experiences and was evident in listening to the other women veteran artists speak about their inspiration for their works of art.
What has been your best moment with the WVI so far?
It is difficult to identify one "best moment" but the relationship that has developed with the 94 year-old WWII Navy veteran is very important to me. I always need to learn something new so being the coordinator of WVI has provided many opportunities for me to learn about veteran issues.
What's the future for WVI?
We need to increase awareness and identify women veterans through various activities. Hopefully, other women veterans will step forward to take a more active role in WVI.
Her organization skills are apparent as she skillfully took the reins of WVI two years ago and has a continued presence offering fellowship and activism, keeping the initiative healthy in the Glass City. It is her compassion as a nurse with a large dose of inspiration and integrity and military pride that makes WVI a success and recognized by the community.
This month, we salute Carolyn Nagy, a fine representative of all veterans.