Born and raised in Toledo this year's recipient joined the the Marine Corps straight from graduating from Whitmer High School, with honors. Nathan was stationed in Okinawa Japan with the 3rd Marine Expeditionary Force Band. An accomplished musician, Nathan received glowing recommendations and presented an outstanding essay to the organization's judging committee.
Here's what Nathan had to say.
Were you surprised you won? What was your first reaction when you heard from Chris?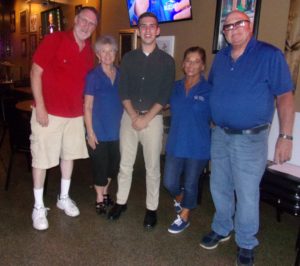 I was incredibly surprised when I found out I won. I was almost in disbelief. I had entered almost at the last minute since I had only just heard of the opportunity.
Nathan plans to use his leadership skills in the medical field. He is currently enrolled at the University of Toledo studying biochemistry and his goal is to become an emergency room doctor.
Why did you choose the medical field?
I choose the medical field because I want to ultimately help mankind and help as many people as I can. Growing up, I had often wanted to be a doctor, but didn't quite realize all the work it would involve. When I got out of the Marine Corps I knew I wanted to go to college but was unsure. At first I considered being a nurse, but realized that if I could serve in the Marine Corps for four years, I could attempt anything. This led me to decide to go through the rigorous course load to be a doctor.
How will this funding help?
This funding will be extremely beneficial to accomplish my dream. Currently I am paying out of pocket for my undergraduate degree and plan on using the GI Bill for medical school. This funding will help pay for the next year and a half of my classes.
Where do you see yourself in 10 years? 20 years?
In ten years I hope to see myself finishing up my medical residency, preferably in emergency medicine. In 20 years, I hope to be working in a hospital as an emergency room doctor, helping as many people as I possibly can.