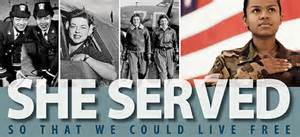 March is Women's History Month so the American Legion Auxiliary is having a luncheon and birthday party to honor all women veterans.
Admission is "free" to all women veterans.
It will be held on March 12, 2019, 11:30am – 1:30pm
Toledo VA CBOC
1200 S. Detroit Ave.
Toledo, Ohio 43614
2nd Floor, Community Rooms
Reservations are required by March 3, 2019.
Open, complete and print the reservation form and drop off at the "Coffee Room" Voluntary Services Lounge room n01-24.